NATIVE PRO 100™
100% NATIVE WHEY PROTEIN ISOLATE
AT A GLANCE
30 g fast-acting protein.
Made with 100% NATIVE whey isolate.
Extracted directly from pasture-raised, grass-fed cow's milk.
17% more leucine, 8% more glutamine, 25% more arginine.
0 g lactose, gluten, or fat.
No rBST hormones, antibiotics, creamers, synthetic colors.
Naturally flavored. Sweetened with stevia and monk fruit.
No banned substances - safe for sport.
35 Servings per container.
USAGE
After workouts, mornings, or afternoons.
Per serving. Amino acids are naturally occurring and values are approximated. Information varies by flavor. Refer to nutritional, ingredient, and allergen information for complete details. Native whey is not a byproduct of cheese manufacturing or subjected to secondary pasteurization. Compared to standard whey protein isolate. No significant difference has been shown between the milk of rBST treated and untreated cows.
Insights
Traditionally whey has been a byproduct of cheese manufacturing. Though cheese whey is still the industry standard, a new technology, allowing gentler extraction of delicate whey proteins directly from milk, is emerging. This next generation of whey protein is more expensive than traditional sources, but has qualities that make it highly attractive for athletes. Some examples include lower denaturation (natural or 'native' structures of the proteins better preserved), higher levels of key aminos to support muscle performance, and clinically backed effectiveness.*
NATIVE PRO 100 represents the latest innovation in whey protein. Lower-temp technology directly extracts pure whey protein from the milk of pasture-raised, grass-fed cows to preserve more of the naturally occurring benefits that have been scientifically shown to support muscle performance. Those seeking the best whey protein available need look no further.*
*These statements have not been evaluated by the Food and Drug Administration. This product is not intended to prevent, treat, cure or prevent any disease.
DIRECTIONS
Add 1 scoop of NATIVE PRO 100™ to a glass or shaker cup filled with 8 ounces of cold water. Stir or shake for a few seconds until powder is fully dissolved. Enjoy. Tip: Try blending NATIVE PRO 100 with milk, fresh fruit, and ice cubes for a creamer texture and added antioxidant power.
BEST TIME TO USE
After workouts, mornings, or afternoons.
ALLERGEN INFO
CONTAINS: MILK AND SOY INGREDIENTS.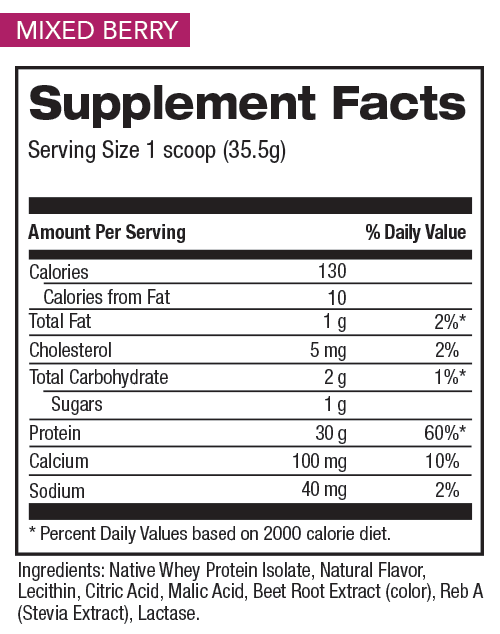 30 Reviews
Best vanilla out there

Posted by Lukas Knight on May 2nd 2022

After looking around for a quality whey isolate without a huge amount of sweetness, this is really it! And I've tried getting unsweetened protein, that was definitely not worth it. This stuff is the bomb

Best Protein

Posted by Cony Sainz on Apr 6th 2022

Flavor it's amazing but the quality of this protein is the best!! Perfect for competition prep

Native Pro 100

Posted by Sandy on Feb 9th 2022

Perfect protein shake after workout. Love the vanilla flavor

Some of the best protein around.

Posted by Christopher on Dec 29th 2021

This protein powder is delicious, and it mixes well with either milk or water. I notice better post-workout results with this protein when compared to other products. No stomach bloat or digestion issues for me, and I have at least one, usually two, shakes daily.

Probably best whey protein made

Posted by Todd S. on Sep 15th 2021

Looking at the formulation, this is probably the very best Whey protein on the market. No cheap concentrates, very high protein content per serving.

Whey isolate vanilla

Posted by Lukas Knight on Sep 15th 2021

I have been looking for a clean, minimal ingredient protein. Tried a lot of others, this one has the best mix, taste, after taste and digestion so far.

Native Pro

Posted by KP on Apr 14th 2021

Love this stuff. Mixes well. Taste is awesome. Use after workout. Have my son using it now. Thanks for a great product.

Amazing quality protein

Posted by Ali on Mar 31st 2021

Cleanest protein I have had! Will definitely be buying this and the collagen again

Best Whey protein you can buy

Posted by Todd Stukenberg on Mar 10th 2021

This is the best Whey available. It's the most protein-dense Whey per serving on the market. Highly bioavailability, fast digesting, ideal post-workout. Good tasting as well.