COLLAGEN PEPTIDES
HAIR, SKIN, NAIL & JOINT SUPPORT*
AT A GLANCE (1)
20g collagen peptides.
Made from grass-fed bovine hide.
Only 1 ingredient - collagen peptides.
Unflavored - add to any hot or cold liquid.
0 added sugars, sweeteners, or colors.
Compatible with keto and paleo diets.
Fat, carb, cholesterol, and gluten free.
USAGE
Anytime
Insights
Collagen is the most abundant protein in the body. It is a constituent of connective tissues and a key structural component of the musculoskeletal system, which is essential for mobility. Supplementing with collagen has been shown to help support metabolic turnover for the maintenance of healthy tendons, ligaments, skin, nails, and hair.*
RIVALUS COLLAGEN PEPTIDES are made from the hides of grass-fed, pasture raised cows. Using a precise extraction and hydrolysis process, collagen peptides are isolated to yield a purified powder that is highly soluble and nearly tasteless. Add 1-2 scoops of COLLAGEN PEPTIDES to any hot or cold beverage, shake, or liquid to complement your diet – without any added fat, sugar, cholesterol, soy, lactose, gluten, caffeine, or fillers.
*These statements have not been evaluated by the Food and Drug Administration. These products are not intended to prevent, treat, cure or any disease.
(1) Per serving. Information may vary by flavor. Refer to nutritional, ingredient, and allergen information for complete details.
DIRECTIONS
Mix 1 scoop of COLLAGEN PEPTIDES into about 8 ounces of your favorite hot or cold beverage or liquid. Some mixing suggestions outside of water and milk include protein shakes, amino drinks, fruit smoothies, pudding, soup, coffee or tea, and pancake and baking mixes.
BEST TIME TO USE
Post-workout with protein and BCAAs for recovery.
STACKS WELL WITH
STEAM BCAA™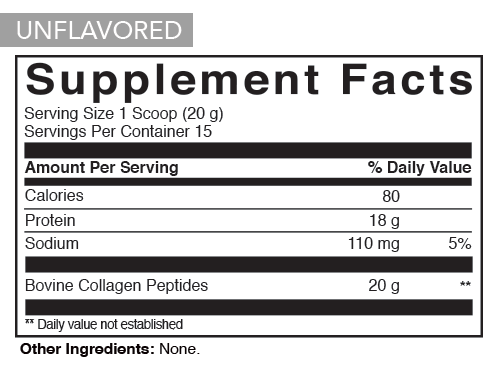 15 Reviews
Collagen

Posted by Margie on Sep 12th 2019

Very easy to mix into my coffee.

Collagen

Posted by Beverly on Apr 11th 2019

I like this product as opposed to others because it has no artificial flavoring. I've been using it for a month, so it's a littleness early to see results.

Simple taste and good benefits

Posted by Julia on Dec 13th 2018

I love putting this product in smoothies and my oatmeal. It helps me get a little extra protein without having a whey protein after taste. If you don't mix it with enough water, it is a little thick. I would recommend this product!

love this collagen powder

Posted by lauryn on Oct 23rd 2018

great product. truely no taste. dissolves well in hot water. i've been using in tea or coffee everyday with no weird alterations to taste! i've tried a few different collagen powders before this one, this one is my favorite

Collagen Peptides

Posted by Marissa Manprasert on Sep 6th 2018

Great product, great outcomes — my hair has grown faster in length and thickness alongside my nails. Unflavored choice is best to mix with morning aminos, coffee, juice, or just water alone without having to worry of flavor changes.

Great Product!

Posted by Kathy on Aug 28th 2018

I've been using this product for about 2 months, and I am already seeing a noticeable change in my nails and skin!