COLLAGEN PEPTIDES
HAIR, SKIN, NAIL & JOINT SUPPORT*
AT A GLANCE (1)
20g collagen peptides.
Made from grass-fed bovine hide.
Only 1 ingredient - collagen peptides.
Unflavored - add to any hot or cold liquid.
0 added sugars, sweeteners, or colors.
Compatible with keto and paleo diets.
Fat, carb, cholesterol, and gluten free.
USAGE
Anytime
Insights
Collagen is the most abundant protein in the body. It is a constituent of connective tissues and a key structural component of the musculoskeletal system, which is essential for mobility. Supplementing with collagen has been shown to help support metabolic turnover for the maintenance of healthy tendons, ligaments, skin, nails, and hair.*
RIVALUS COLLAGEN PEPTIDES are made from the hides of grass-fed, pasture raised cows. Using a precise extraction and hydrolysis process, collagen peptides are isolated to yield a purified powder that is highly soluble and nearly tasteless. Add 1-2 scoops of COLLAGEN PEPTIDES to any hot or cold beverage, shake, or liquid to complement your diet – without any added fat, sugar, cholesterol, soy, lactose, gluten, caffeine, or fillers.
*These statements have not been evaluated by the Food and Drug Administration. These products are not intended to prevent, treat, cure or any disease.
(1) Per serving. Information may vary by flavor. Refer to nutritional, ingredient, and allergen information for complete details.
DIRECTIONS
Mix 1 scoop of COLLAGEN PEPTIDES into about 8 ounces of your favorite hot or cold beverage or liquid. Some mixing suggestions outside of water and milk include protein shakes, amino drinks, fruit smoothies, pudding, soup, coffee or tea, and pancake and baking mixes.
BEST TIME TO USE
Post-workout with protein and BCAAs for recovery.
STACKS WELL WITH
STEAM BCAA™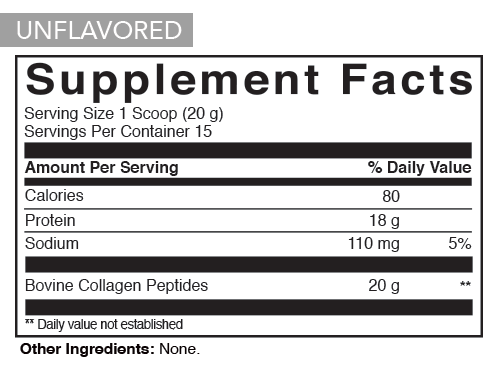 17 Reviews
Collagen

Posted by Unknown on Aug 7th 2023

I mix with any drink and it would help for skin and joints, I'm over 65 and still look young

Peptides

Posted by Nathan Ackerman on Feb 28th 2023

Good breaks down awesome

Awesome

Posted by Shannon Baker on Sep 20th 2021

This is the first time I've ever tried collagen and it doesn't taste at all, it's easy to drink and I would recommend this highly to people.

It mixes well.

Posted by Mark on Apr 14th 2021

It mixes well.

Collagen Peptides

Posted by Ken on Feb 8th 2021

Great product, completely dissolves in any drink without any after taste.

Love this Product

Posted by Casey on Jan 21st 2021

I have tried several collagen products and this is by far my favorite. It dissolves easily with no strange taste. I've bought this item several times.

Helped me

Posted by Chris on Jan 12th 2021

I ordered this for my joints. My knees were bugging me. I have a golfer's elbow and some paint in my thumbs from working. I started using this and halfway through I realized how much better they were. We ordered three more bottles.


Truly flavorless

Posted by Anthony on Aug 31st 2020

Hey.. I like the mixability and the fact it has no flavor,I mixed in with my whey protein....

Collagen Peptides

Posted by Dan on Jul 21st 2020

I order this for my wife she's a regular user. After finding it at Rivalus she won't buy from anywhere else due to the price.