Posted by Rival Nutrition on May 21st 2021
After 8 years, we're trading in our orange 'uniforms' for a sleek new look. Introducing Rival Nutrition! Same Great Taste, proven results and premium quality with an all new look!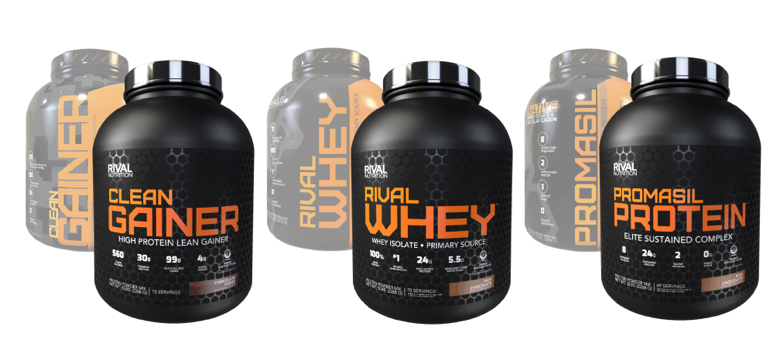 You'll be able to identify the benefits and key ingredients of our amazing products easier than ever before!
What has changed?

Our new packaging has been completely updated! Our new look brings you engaging new infographics and easy-to-digest bits of information to making selecting your perfect product easier than ever before, all wrapped up in a new style.
What has NOT changed?
The great taste you've come to know and love
The premium quality ingredients
Instant mixability with a spoon, shaker, or blender
Made in the USA in our own state-of-the-art facility
Comprehensive product testing
Independent, external verification of adherence to cGMP standards for quality, cleanliness, and product consistency
Our mission to deliver safe and effective products for athletes at exceptional value – every day
Commitment to no banned substances

When will the new packaging be available?
The transition to Rival Nutrition has already begun! Select varieties of Clean Gainer, Rival Whey, and Promasil Protein will now be available in the new packaging*. Other products will migrate to the black label in the weeks to come. In the upcoming months, we will be releasing additional new content such as new flavors or new products. Be sure to check back to our website often!
*Availability of new content may vary by region.
+ Share